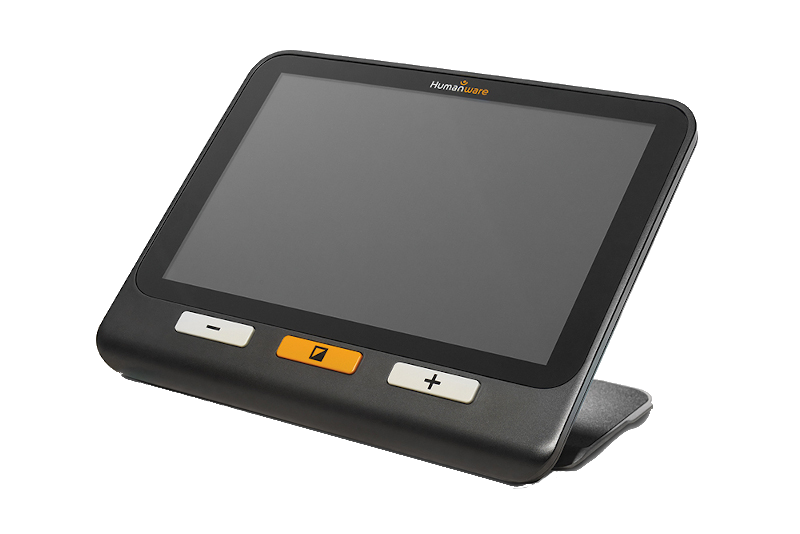 The ultra-portable explorē line is designed for active people with low vision who wish to have an electronic handheld magnifier with them wherever they go.
The Big Picture in a Small Package
More than ever, people with low vision are looking for a powerful yet lightweight tool to help them see clearly in their daily activities. Our latest innovation? The explorē 8, a Touchscreen HD handheld magnifier for active people who prefer a large screen but still want maximum portability. It is smaller, lighter and more affordable than most 7-inch magnifiers on the market while providing a screen more than 30% larger, designed to make life easier—and a whole lot clearer.
Delivering unmatched image quality, the explorē 8 features two 21-megapixel cameras—one for things less than 15 cm away like documents, books and newspapers, and a second camera for distance viewing away to see things like street and store signs.
The device boasts the largest screen in the smallest package, designed with the latest technology, innovative features and an easy to use touchscreen for unmatched mobility, comfort and convenience wherever you go.
Lightweight device loaded with next-level features
The explorē 8 may be compact but it packs a powerful punch, with a large Ultra HD screen for easy reading and a host of other cutting-edge features to help keep things in focus when you're on the move.
Cutting-edge design
With its compact design and smart, intuitive features, the explorē 8 is changing the way vision-impaired people experience and interact with the world around them.
Intelligent software
The explorē 8 was designed to be as user friendly as it is intelligent, with next-level software made with the mobile user in mind.
Exploring the world has never been easier
With its innovative and comprehensive family of products, HumanWare is changing the way vision-impaired people communicate, work and travel. Now with the explorē 8, people with low vision can enjoy all the benefits of a large screen in a compact, portable package, with zero compromise on style, quality and comfort.
Unit Dimensions and Weight:
Height: 0.94" (24 mm)
Width: 8" (204 mm)
Depth: 6" (153.2 mm)
Weight: 1.30 lbs – 20.8 oz (580 g)
Specifications:
Screen: 8-inch ISP LCD screen
Battery: Non-removable Li-Polymer 6700 mAh battery
Camera: Two HD 21M pixels
Power Input: C-Type USB connector, 5V@3A and  Quick charge 12V@1.5A
Charge Time: 2 hours (unit off)
High-Resolution video output Compatibility: Supported High-Resolution video output formats

1280x720p 60Hz, 50Hz
No support of DVI emulation
Features:
Zoom: 2x – 30x
Focus:

Close-up: Fix auto-focus
Far: auto-focus or locked auto-focus

Languages available: English US (is default),English UK, French, Spanish, German, Dutch, Danish Polish, Portuguese (Portugal), Portuguese (Brazil), Norwegian(Bokmål),  Italian, Swedish, Finish, Russian, Czech, Japanese, Korean, Icelandic, Estonian, Turkish, Lithuanian, Hungarian, Latvian, Arabic
Touch screen gesture configuration: Live zoom gestures, tap & hold to save
Preferred zoom: Save a preferred zoom level
Line and blinds: Enable/disable line or blinds
Menu text size: Small, Medium and large
Battery Life: 4.5-hours
Power saving: Auto shutoff after 1min, 2mins, 5mins or 10mins
Color schemes: Full color, White on black, Black on white, Yellow on black, Black on yellow, Orange on black, Black on orange, Black on cyan, Cyan on black, Black on purple, Purple on black, Black on green, Green on black, Blue on yellow, Yellow on blue, White on blue, Blue on white
Display frequency: 50Hz-60Hz
Close-up viewing distance: 50Hz-60Hz
Close-up viewing distance: 8.5 cm – 15 cm / 3.35" – 5.90"
Far viewing distance: 15cm – infinity / 5.90" – infinity
Operating Conditions:
Temperature: 10 ˚C to 40 ˚C / 50 ˚F to 104 ˚F
Humidity: 20% to 80%