ZoomText Magnifier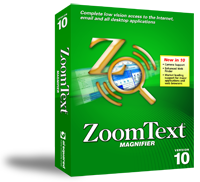 ZoomText Magnifier enlarges and enhances everything on your computer screen, making all of your applications easy to see and use. Our revolutionary new 'xFont' technology displays crystal clear text at all magnification levels. Once you've seen it, no other screen magnifier will do.
Mac version now available.
Magnifier/Reader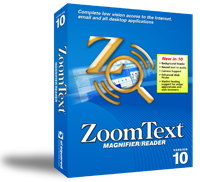 Combining the revolutionary new features of ZoomText Magnifier with a powerful set of reading tools, ZoomText Magnifier/Reader gives you the total computer access solution. See and hear what you're doing in all of your applications, and give your eyes a rest while ZoomText reads your documents, web pages and email – right through your computer's speakers. With ZoomText Magnifier/Reader, your computer is easier to see, hear, and use.
ZoomText Large-Print Keyboard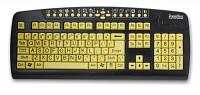 The perfect solution for anyone that has a hard time seeing the lettering on their keyboard. The new ZoomText Large-Print Keyboard provides large, high-contrast lettering that's easy to see, even in low light conditions.
The ZoomText Large-Print Keyboard also includes 18 programmable feature keys, allowing you to access your favorite ZoomText, Internet and multimedia commands with the touch of a button. Used with ZoomText, your low-vision computer workstation is complete.